You can submit your complaint to us by phone, via the contact form or by email. You can also visite our office in Neukölln and submit your complaint in person.
Our staff will record your complaint in your mother tongue.
We speak Arabic, Azerbaijani, Dari, German, English, Farsi, French, Kurdish, Maninka, Pashto,Georgian, Vietnamese, Russian, Tigrinya, Turkish and Ukrainian. Sign language mediation and other languages can be arranged.
Our office hours are from Monday to Friday from 09:00 – 17:00 (by arrangement till 19:00).
Contact by phone
In which language would you like to submit your complaint? (Please click)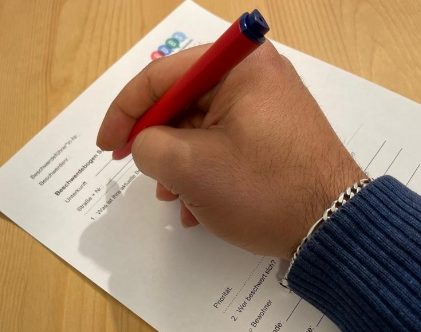 *If you do not find your language in the list, please call us on +49 30816901-2570 or email us at Beschwerde@bubs.berlin. We will organise a language mediation and contact you as soon as possible.
Adresse
Berliner unabhängige Beschwerdestelle (BuBS)
Donaustraße 78
12043 Berlin
Directions: U-Bhf Karl-Marx-Straße or bus Geygerstraße (M41 from Hermannplatz)